Online Programs
Pensacola State College offers eleven programs completely online:
Accounting Technology (AS)
Accounting Technology Management (CT)
Business (AA)
Business Administration (AS)
Business Development and Entrepreneurship (CT)
Business Management (CT)
General Studies (AA)
Human Resource Administrator (CT)
Human Resource Management (ATC)
Law Enforcement Administration (LEA-ATC)
Project Management (ATC)
Spring Registration
Thinking about taking an eLearning course this spring? You're not alone. For the past five years, an average of 282,816 students in the Florida College System enrolled in distance learning courses. Students enroll in online courses for a variety of reasons. However, scheduling flexibility and geographic freedom are certainly two features that attract those who work and/or manage family obligations while trying to attend college. PSC offers eLearning courses that are 100% online as well as hybrid courses that substitute online instruction for a portion of on-campus meetings. If you are interested in learning more about eLearning at PSC, please call us anytime (850-484-1238). The eLearning Department will be happy to answer any questions you might have. Registration for spring classes opens November 1.
Online Success
Ten things you can do to ensure success in online learning: 1) Become familiar with your online classroom, Canvas. 2) Read your syllabus and consult it periodically. 3) Plan ahead, especially for things like arranging a proctor (if required). 4) Don't fall behind. 5) Technical issues? Don't wait — seek help immediately. 6) Talk to other students taking online courses. They have been in your shoes and may be in a position to offer helpful advice. 7) If you hit a bump in the road, contact your instructor as soon as possible. 8) Manage your time wisely. The semester will pass faster than you think. 9) Bookmark the eLearning website. Helpful information is located under the "Students" link. 10) Be proactive. Success depends on initiative and timely action.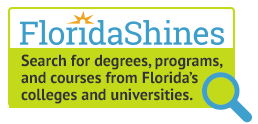 FloridaShines (Florida's Student Hub of Innovative Educational Services) is a service of the Florida Virtual Campus. FloridaShines works with the state's 40 colleges and universities and other partners to help you succeed in school and beyond. Whether you're in high school or college, or you're already working and ready to earn or complete your degree, FloridaShines can help.