Alabama Tuition Differential
Education is expensive. That's why PSC provides Alabama residents, meeting the criteria of physical residence and the establishment of two legal ties to the State of Alabama, a fee that is equivalent to the in-state tuition plus an additional $10.00 per credit hour or credit hour equivalent. To be eligible for the Alabama Tuition Differential, the Alabama resident must have maintained legal residence in the State of Alabama for the twelve months immediately preceding the first day of classes in the term for which the differential tuition assessment is requested. PSC offers a number of programs fully online, and prospective students interested in the assessment of the Alabama Tuition Differential may submit the request for classification as an Alabama Resident in a registration office on any campus. For more information please click here or call the eLearning Department at 850-484-1751.
Scheduling a Test
If your online course requires proctored testing, the PSC Testing Centers are ready lend a helping hand. Scheduling an appointment to take an exam at the Pensacola, Warrington, or South Santa Rosa Testing Center is easy. Students can schedule tests and pay associated fees online 24/7 (if applicable) with a computer or mobile device. Students living close to one of these locations will find this service to be a real time saver. Note that testing appointments at the Milton and Century Testing Centers must be made by phone. PSC Testing Centers appreciate the needs of online learners and seek to accommodate all students in the most efficient manner available. To learn more about testing in online courses, students may consult their instructor, call the eLearning Department (850-484-1238), the Pensacola Testing Center (850-484-1656), or visit the PSC Testing Center online. Click here to schedule your next exam.
Virtual Tutoring 
At PSC, students enrolled in math, writing emphasis, beginning physics, or beginning chemistry courses may connect with a tutor in a fully interactive, online environment. Virtual tutors have access to textbooks used in PSC classes, enabling students to ask questions related to homework assignments and other class requirements. If homework is not from a textbook, the student may speak, email, or chat their question to the virtual tutor. After receiving a question, the tutor will work through the problem, prompting the student to answer questions and interact throughout the process. Virtual tutors can address multiple learning styles and will work one-on-one with students in real-time. In late 2017, PSC won the prestigious Bellweather Award for its Virtual Tutoring Service. Click here for additional information.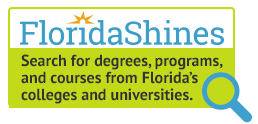 FloridaShines (Florida's Student Hub of Innovative Educational Services) is a service of the Florida Virtual Campus. FloridaShines works with the state's 40 colleges and universities and other partners to help you succeed in school and beyond. Whether you're in high school or college, or you're already working and ready to earn or complete your degree, FloridaShines can help.