Accounting Technology (AS)
Now offered completely online, this program is designed to provide the education and skill development to prepare students for entry-level employment in accounting or bookkeeping, or to provide supplemental training for persons previously or currently employed in these areas. The knowledge and training acquired in this program can also be applied to many other managerial or supervisory positions in business and government. People who have arithmetic ability, prefer working indoors, and like to organize things may be suited for a career in this field. Changing laws and regulations, increased numbers of businesses, and greater scrutiny of company finances will drive faster than average growth of accountants and auditors. For more information please review the Accounting Technology website or contact the PSC eLearning Department at 850-484-1751.
PSC Library
At some point most college students will be asked to conduct research and write a paper. While it may be tempting to rely on Google exclusively, it is important to know how limiting this can be in terms of scope and quality. For example, the vast majority of scholarly journal articles and other commercial resources are accessible through paid subscriptions and as a consequence would be excluded in the results of a Google search. While PSC students are encouraged to visit the library in person, the PSC Library's extensive collection of online content greatly facilitates the research process for online students. A direct link to the PSC Library is provided within Canvas, thus eliminating the need for separate login credentials, and PSC Librarians are available online and via telephone. Dig deeper. Take advantage of the resources the PSC Library has to offer.
Proctored Testing
If your online course requires proctored testing, it is always wise to make arrangements early in the semester. Tests can be scheduled with a PSC Testing Center or at an off campus location. Scheduling an appointment at the Pensacola, Warrington, or South Santa Rosa Testing Center is easy and can be completed online with a computer or mobile device. (Note that testing appointments at the Milton and Century Testing Centers must be made by phone.) PSC Testing Centers appreciate the needs of online learners and seek to accommodate all students in the most efficient manner available. To make arrangements off-campus, consult your instructor first. To learn more about testing in online courses please contact the eLearning Department (850-484-1238), the Pensacola Testing Center (850-484-1656), or visit the PSC Testing Center online. Click here to schedule your next exam. Remember, don't wait. Schedule your tests early in the semester and mark your calendar!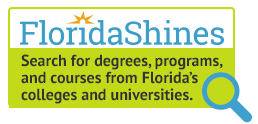 FloridaShines (Florida's Student Hub of Innovative Educational Services) is a service of the Florida Virtual Campus. FloridaShines works with the state's 40 colleges and universities and other partners to help you succeed in school and beyond. Whether you're in high school or college, or you're already working and ready to earn or complete your degree, FloridaShines can help.