Memorial Day Concert
The bravery and sacrifices of America's veterans and armed forces service members will be honored during the 3rd annual Pensacola Memorial Day Concert set for Monday, March 28. The free concert is set to begin at 5 p.m. at the Hunter Amphitheater at Community Maritime Park behind the Blue Wahoos Stadium. The Memorial Day program ─ conducted by Don Snowden, Pensacola Civic Band director ─ will entertain the audience with a number of patriotic selections that reflect on the sacrifices made throughout U.S. history. Featured at this year's concert is World War II veteran and Pearl Harbor survivor Frank Emond, who recently celebrated his 100th birthday. Mr. Emond will once again guest conduct the band in Sousa's "The Stars and Stripes Forever." For more information, visit www.pensacolaremembers.org or call the PSC Lyceum Ticket Office at 850-484-1847.
Proctored Testing
If your online course requires proctored testing, it is always wise to make arrangements early in the semester. Tests can be scheduled with a PSC Testing Center or at an off campus location. Scheduling an appointment at the Pensacola, Warrington, or South Santa Rosa Testing Center is easy and can be completed online with a computer or mobile device. (Note that testing appointments at the Milton and Century Testing Centers must be made by phone.) PSC Testing Centers appreciate the needs of online learners and seek to accommodate all students in the most efficient manner available. To make arrangements off-campus, consult your instructor first. To learn more about testing in online courses please contact the eLearning Department (850-484-1238), the Pensacola Testing Center (850-484-1656), or visit the PSC Testing Center online. Click here to schedule your next exam. Remember, don't wait. Schedule your tests early in the semester and mark your calendar!
Project Management 
PSC now offers the Advanced Technical Certificate (ATC) in Project Management fully online. This program is designed for those with an interest in increasing their knowledge in project management and seeks to prepare students for immediate employment following graduation. Admission requires an associate degree from a regionally-accredited college with the Associate in Science in Business Administration as the preferred pathway into the program. Applicants with an alternate academic background may be required to complete courses specified by the College prior to entering the program. Details can be found on the Program Management website. Additional ATC programs offered fully online include Human Resource Management and Law Enforcement Administration. For more information please contact the PSC eLearning Department at 850-484-1751.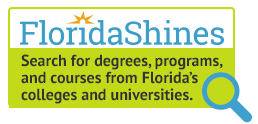 FloridaShines (Florida's Student Hub of Innovative Educational Services) is a service of the Florida Virtual Campus. FloridaShines works with the state's 40 colleges and universities and other partners to help you succeed in school and beyond. Whether you're in high school or college, or you're already working and ready to earn or complete your degree, FloridaShines can help.